Apple Homepod Smart Speaker Best Price Offers @ Axiom Telecom
Apple Homepod Smart Speaker Best Price Offers @ Axiom Telecom
Axiom Telecom Offers:
Apple Homepod Smart Speaker Best Price Offers @ Axiom Telecom.
Best Electronics In Homepod Offers And Deals In UAE.
Special Online Deals.
More Axiom Telecom Offers.
SPECIFICATIONS
| | |
| --- | --- |
| HEIGHT | 6.8 inches high (172 mm) |
| WIDTH | 5.6 inches wide (142 mm) |
| WEIGHT | 5.5 pounds (2.5 kg) |
Audio Technology
High-excursion woofer with custom amplifier
Array of seven horn-loaded tweeters, each with its own custom amplifier
Six-microphone array for far-field Siri
Internal low-frequency calibration microphone for automatic bass correction
Direct and ambient audio beamforming
Transparent studio-level dynamic processing
Audio Sources
Apple Music
iTunes Music Purchases
iCloud Music Library with an Apple Music or iTunes Match subscription
Beats 1 Live Radio
Apple Podcasts
AirPlay other content to HomePod from iPhone, iPad, iPod touch, Apple TV, and Mac
Audio Formats
HE-AAC (V1), AAC (16 to 320 Kbps), protected AAC (from iTunes Store), MP3 (16 to 320 Kbps), MP3 VBR, Apple Lossless, AIFF, WAV, and FLAC2
Touch Surface
Tap or hold + or – for volume up/down
Touch and hold for Siri
Tap to play/pause music or Siri
Double-tap to skip
Triple-tap to skip back
Accessibility
Accessibility features help people with disabilities get the most out of HomePod.
Features include:
VoiceOver
Wireless
802.11ac Wi-Fi with MIMO
Direct guest access
Bluetooth 5.0
System Requirements
iPhone 5s or later, iPad Pro, iPad (5th generation), iPad Air or later, iPad mini 2 or later, or iPod touch (6th generation) running iOS 11.2.5 or later
802.11 Wi-Fi Internet access
Apple Music subscription for full music functionality1
Compatibility
| | |
| --- | --- |
| iPhone | iPhone X iPhone 8 Plus iPhone 8 iPhone 7 Plus iPhone 7 iPhone 6s Plus iPhone 6s iPhone 6 Plus iPhone 6 iPhone SE iPhone 5s |
| iPad | 12.9-inch iPad Pro 10.5-inch iPad Pro 9.7-inch iPad Pro iPad (5th generation) iPad Air 2 iPad Air iPad mini 4 iPad mini 3 iPad mini 2 |
| iPod touch | iPod touch (6th generation) |
In the Box
WARRANTY

The new sound of home.
HomePod is a powerful speaker that sounds amazing and adapts to wherever it's playing. It's the ultimate music authority, bringing together Apple Music and Siri to learn your taste in music. It's also an intelligent home assistant, capable of handling everyday tasks — and controlling your smart home. HomePod takes the listening experience to a whole new level. And that's just the beginning.
A breakthrough speaker all around.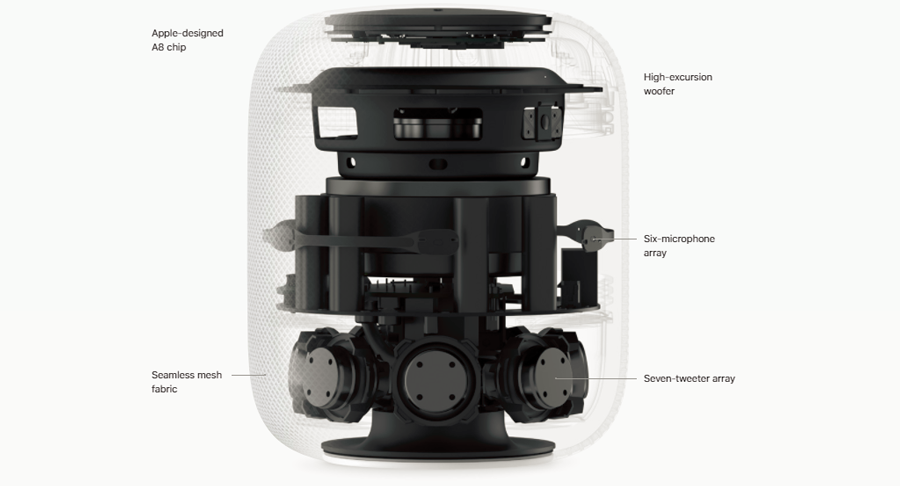 We completely reimagined how music should sound in the home. HomePod combines Apple-engineered audio technology and advanced software to deliver the highest-fidelity sound throughout the room, anywhere it's placed. This elegantly designed, compact speaker totally rocks the house.
Engineered to lower the boom.
We built the high-excursion woofer with a custom amplifier to play a wide range of deep, rich bass. A powerful motor drives the diaphragm a full 20 mm — remarkable for a speaker this size. Meanwhile, HomePod uses an advanced algorithm that continuously analyzes the music and dynamically tunes the low frequencies for smooth, immersive sound.
Seven tweeters. Amazing sound from every angle.
HomePod has a unique array of seven beamforming tweeters. Each with its own amplifier and transducer. And each custom designed with a precision acoustic horn that focuses sound for tremendous directional control. Creating an all-encompassing sense of space — and consistent, high-fidelity audio everywhere in the room.
A8 chip. 
The biggest brain ever in a speaker.
An Apple-designed A8 chip powers the most complex audio innovations in HomePod. Like real-time modeling of the woofer mechanics. Buffering that's even faster than real time. Upmixing of both direct and ambient audio. Beamforming so the microphone can hear you over the music. And advanced echo cancellation. So you get amazing sound without even thinking about it.
Beautiful design with a purpose.HomePod is wrapped in a seamless mesh fabric designed for both aesthetic and acoustic performance. Available in white and space gray, it's gorgeous from every angle — yet virtually transparent to the music. And at just under seven inches tall, it can fit anywhere in your home.
It's easier than easy. It's automatic.
Setting up HomePod is quick and magical. Simply plug it in and your iOS device will detect it. Equipped with spatial awareness, HomePod automatically adjusts to give you optimal sound — wherever it's placed. It can even hear your requests from across the room while loud songs are playing. All you need to do is enjoy your music.
Senses the room and tunes the music. All by itself.
Place HomePod anywhere in the room. It automatically analyzes the acoustics, adjusts the sound based on the speaker's location, and separates the music into direct and ambient sound. Direct sound is beamed to the middle of the room, while ambient sound is diffused into left and right channels and bounced off the wall. So your music sounds amazing, wherever you are in the room.
Responds to your voice. And your touch.
Tap the top of HomePod to play, pause, skip a song, or adjust the volume. Touch and hold the top to talk to Siri. You'll know Siri is listening by the LED waveform that animates with your every word.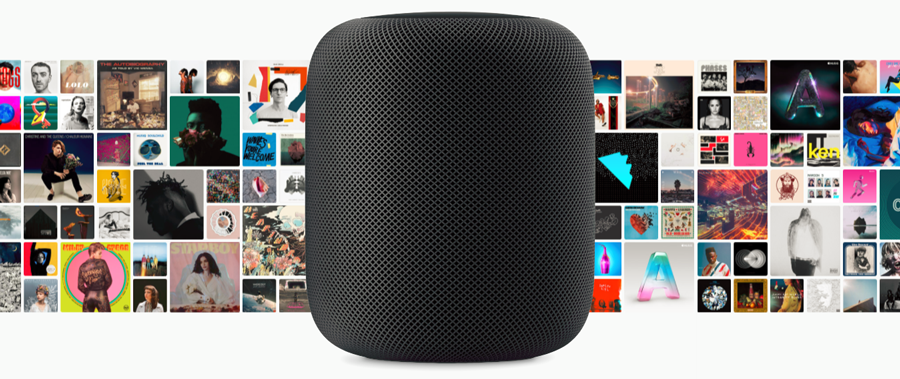 Home to an intelligent assistant.
HomePod is great at playing your music. But it can also tell you the latest news, traffic, sports, and weather. Set reminders and tasks. Send messages. Hand off phone calls. And HomePod is a hub for controlling your smart home accessories — from a single light bulb to the whole house — with just your voice.
Siri has all kinds of answers.
Thanks to Siri, HomePod is great at the things you want to know, and do, in your home. Set timers. Convert measurements. Get translations. And get live news, sports, weather, and traffic. You can also create lists that anyone can add to.
At home with calls and messages.
Use HomePod to send messages using just your voice. And when you receive a text, Siri can read it to you. For hands-free conversations, start or receive a call on your iPhone and hand it off to HomePod.
This is how you command a room.
Just say "Hey Siri, turn on the lights" or "Hey Siri, make the room cooler." You can even ask Siri to set scenes, like "Good morning," that put multiple accessories to work — all at once. A wide range of accessories work with Apple's HomeKit platform. Just add an accessory to the Home app, then control it with your voice on HomePod.