1 or 2 Nights for 2 Adults and 2 Children with Breakfast and Airport Transfers
1 or 2 Nights for 2 Adults and 2 Children with Breakfast and Airport Transfers
The Hotel:
Located on a raised land area, Atana Khasab Hotel welcomes guests to a side of Oman that reflects old traditions while making way for modern ways. Boasting a blend of warm Omani hospitality with four star amenities, the property overlooks the sea and offers unrivaled views of the sunrise or sunset. Leisure facilities include a swimming pool, fitness centre, and a playground for children.
Included in all options:
Stay in a deluxe room with sea view for 2 adults and 2 children under 12 years old with breakfast, airport transfers, fruit basket on arrival, and early check-in and late check-out (subject to availability), valid between 1 Oct 2017-9 Sep 2018
AED 350 for 1 night (instead of AED 1,075)
AED 700 for 2 nights (instead of AED 2,155)
Amenities
Restaurant, bar and pool on site
Check-in from 3pm, check-out by midday
Complimentary Wi-Fi
No pets allowed
Staff speaks English, Hindi and Arabic
Complimentary parking
Guide To Oman
Guests may take the plunge with a spot of snorkelling in the clement waters of the Omani coastline, and keep eyes peeled to catch a glimpse of the chirping dolphins that frequent its bays.
Moving westward, visit the capital Muscat to behold the majesty of the Sultan's Palace, the Grand Mosque, and the 16th century fort of Al-Jalali, among other architectural delights and historic landmarks. Similar splendour may be found amongst the trinkets and curios of the Mutrah Souq, which offers all the bustle and bartering of a traditional Arabic market, and makes the ideal venue for a little souvenir shopping.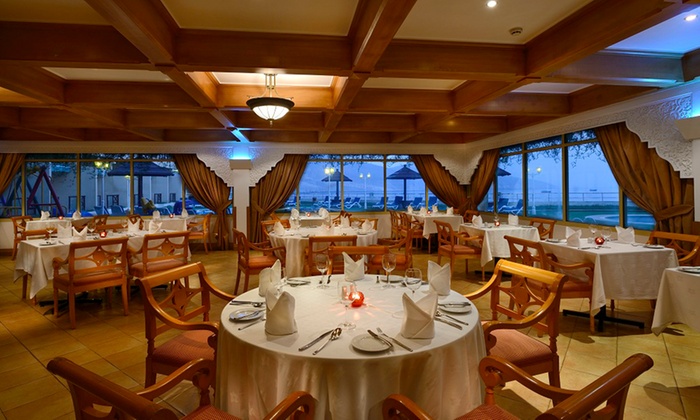 Groupon
Oman: 1 or 2 Nights for 2 Adults and 2 Children with Breakfast and Airport Transfers at 4* Atana Hotel Khasab
More Groupon Deals